<



GOOGLING LIBRARIES



a MobyLives guest column
by Christopher Allen Waldrop


10 January 2005 —In 1997 I attended a talk about the future of libraries and the Internet. It was the first time I heard it suggested that the Internet could potentially replace the traditional library: With the increasing availability of information online eventually there wouldn't be a need for a physical library building to hold books and periodicals.
It was suggested that this change could occur in as little as ten years, but so far it doesn't look like that's going to happen. In spite of the increasing availability of information in electronic formats no one's rushing to turn the local library into a golf course; in fact in the past decade many cities and universities have purposely invested in new buildings or renovation to accommodate new technology, as well as more books. If anything technology means new opportunities for libraries.
Still some librarians worry that the Internet's going to put them out of a job. The recent beta testing of Google Scholar, and the announcement that Google Print would be working with libraries at Harvard, Oxford, Stanford, the University of Michigan, as well as the New York Public Library hasn't done anything to help put those fears aside.
However the reality is much more complicated.
Even though their new products are being billed as attempts to compete with Microsoft and Yahoo!, Google is also threatening to step on the toes of companies that serve libraries almost exclusively. Proquest, Ingenta, H.W. Wilson, and others already have searchable databases of full–text periodicals and abstracts. Meanwhile publishers, including Elsevier, John Wiley, and Blackwell have created similar full–text databases of their own periodicals.
The disadvantage for libraries is that these products require pretty hefty subscription fees based on different factors such as number of users, the number of titles the library subscribes to, or even the number of hits. For library users there's an even more important downside: these databases are designed for scholarly use, and since no two are alike there's a learning curve with each one.
The beauty of Google is its simplicity; it's like a virtual reference librarian. Ask Google a question, and while it won't give you an answer it can help you figure out where to go.
Google Scholar would seem to be Google's answer to the periodical search engine, although it's already been hit with a lawsuit for trademark infringement by the American Chemical Society which has a product called SciFinder Scholar. The lawsuit is still pending, and Google seems set to step in and give libraries exactly what they need: a free resource that provides the greatest possible access to information.
The catch, in addition to Google being cagey about its definition of "scholarly," is that users get a mixed bag of hits. Sometimes there's a link to a full–text article, but users are just as likely to get a search result labeled [book] and a link to search by zip code for the nearest library with that book in its stacks.
Even more frustrating is the label [citation], which may mean ³book² but doesn't include the library search option. And while it's possible to find article citations there's no guarantee a user will get a full–text article. In most library databases users can limit their searches to full–text articles, so unless they just want citations they're better off using one of those.
Google Print will theoretically take things a step further by making whole books available to users through a simple search. However Google's digital library project doesn't necessarily provide any better benefits than going to a library's web catalog. Although their press release says, "With the addition of books from our library partners, our book selection will continue to increase, and you'll also be able to find out of print, rare and public domain books," the emphasis should be on public domain books. As the "About Google Print" page explains, a book will only be available in its entirety if it "has no copyright restrictions and is considered public domain."
In a clarifying e–mail to me, they added, "We'll also show a few pages from books when we have an agreement to do so with the publisher." Google is soliciting the cooperation of publishers with the promise that they'll increase their books' visibility and attract customers, as well as earning money from ads targeted to their content. It remains to be seen how many publishers will go for this, or how much money there really is to be made. Meanwhile the University of Michigan and Stanford may digitize their entire collection, but only public domain books will actually be available online.
This isn't to say Google's entirely bad.
In many ways Google is expanding the traditional library's boundaries but keeping the ideal of making information freely available to anyone. The increased emphasis on scanning books will, hopefully, push this technology and make it cheaper, faster, and more effective. Space and time have always been the biggest enemies of libraries, and scanning means versions of the most rare and fragile documents can be made freely available while the originals are kept in controlled environments. It may even be in Google's interests to help libraries fight legislation like the 1998 Sonny Bono Copyright Extension Act and its restrictions upon the public domain.
On the other hand, Google is a profit–driven corporation, whereas most libraries (including the ones currently working with Google) are non–profit. Since Google's revenue comes from selling ads it's not clear whether search hits will lean more towards results that push products.
And although remote, it's also a possibility that Google will exercise editorial control, restricting access to information at the behest of advertisers or shareholders. The quantity of information available may make such control impossible, but it also means that users won't necessarily know when access to information is being denied.
Many librarians believe they're competing with and losing against search engines like Google, that for most users the convenience of a simple, clean interface outweighs the quality of the quality of the results. Whether this is true or not Google's digital library project is an opportunity for libraries to remain competitive by working with the competition. For the sake of users, and their own future, libraries just have to make sure they're taking advantage of the opportunity and not being taken advantage of.



Librarian CHIRSTOPHER ALLEN WALDROP is the Serials Coordinator at the Vanderbilt University Library in Nashville, Tennessee.

Link to this column.

©2005 Christopher Allen Waldrop


Previous column; BLUE CHRISTMAS ... Booksellers are reputed to be stallwart lefties, but guess who "the world's biggest bookseller" is giving its corporate donations to.




©2005 Christopher Allen Waldrop







Don't want to register for a site but need log on i.d.s and passwords? Get them at BugMeNot.com.

MobyLives towers above all other literary weblogs.
— The Complete Review

Friday 21 January 2005



Authors injured in Rugby pile–up won't be compensated . . .


"Pearson's troubled Penguin books division has rejected demands from some of Britain's best–known authors for compensation after sales of their books were hit by a distribution crisis," reports Saeed Shah in a story for The Independent. As Shah explains, (and as previously covered on MobyLives), "The computer system at a massive new Penguin warehouse at Rugby failed in the spring last year, leaving distribution of Penguin books in the UK in chaos. It meant many titles were simply not on shelves in bookstores for much of the year." But a group of complaining authors, "led by the distinguished historian Antony Beevor, the author of Stalingrad, was told the publisher was not willing to make a payment to all its authors to cover them for lost sales due to their books being missing from shops." Instead, Penguin said "internal" sals figures "showed overall sales last year were good." So, Penguin decided "authors as a whole would therefore not be offered recompense but it would consider individual cases from writers who believe they had been particularly affected."



Egyptian novelist running for president and her life . . .


Egyptian feminist writer and professor Nawal El Saadawi, who was "forced into exile by Islamic militant death threats for half the 1990s," and is now "making a symbolic bid the presidency," says "state suppression of secular thinkers means she still has to go abroad to work." In a Reuters wire story, Tom Perry reports El Saadawi, "is not allowed to speak on state television, write in state newspapers or teach in state universities." The74–year–old author, whose book The Fall of the Imam "disappeared from Cairo book stores last year after the state–controlled al–Azhar mosque and university recommended it be banned," now teaches mostly in the U.S. and Spain. As to what she teaches, she tells Perry, "I teach the relationship between creativity and dissidence. They do not allow it in Egypt. The word dissidence is very frightening."



2005 Booker festivities begin early . . .


"Within hours of the academic and biographer John Sutherland being announced as chairman of judges" for the 2005 Booker Prize, "there were calls for him to stand down," writes Nigel Reynolds in a Daily Telegraph report. Sutherland last chaired the judging panel for the UK's leading literary prize in 1999, and the experience prompted one of his fellow judges to tell the Telegraph, "He's not fit to be chairman. He's an outrageous choice." Says another judge from that panel of the choice, "I am surprised. I can't think of anyone in the last few years who has got up the nose of his fellow judges in quite the same way." The ill will started when, just after the 1999 prize was announced (J. M. Coetzee's Disgrace), Sutherland "revealed some of the disagreements of the jury room in a column for The Guardian." Recalls Reynolds, "In a blunt letter published the next day in The Guardian," judges Natasha Walter and Sheena Mackay, said, "John Sutherland not only breached the trust of his fellow judges, he also strays into pure fantasy. We would like to dissociate ourselves from his self-serving gossip, which does not give anything like a true picture of the real passions and arguments of the judges."



Unfortunately, he forgot to predict his own fame . . .


A forgotten Victorian novel written by a little–known author that is being auctioned off in Scotland has been discovered, upon closer reflection, to have "accurately predicted the invention of flat-screen televisions, bullet trains and digital watches," reports Claire Smith in a story for The Scotsman. The book, a sci–fi tale called Golf in the Year 2000, was written in 1892 by Jay McCullough, "follows the tale of avid 19th–century golfer Alexander J Gibson, who falls into a deep sleep on 24 March 1892 and wakes up Rip Van Winkle–style on 25 March 2000 to find a world transformed. Television, superfast trains, digital watches and female emancipation are all predicted in the tale, which envisages a world of leisure where golf is paramount." Smith reports that little is known about the author except that he "wrote only one other book, a golf instruction manual."





NOTE: Daily newspapers often change URLs when archiving, so some links won't work beyond the day they're first posted.





Thursday 20 January 2005



B&N UK? . . .


After falling due to poor Christmas sales, shares in the British bookselling chain Ottakar's, Great Britain's third biggest bookseller, rose last week after rumors that Barnes & Noble might buy the firm. As a brief report in The Times of London notes, B&N considered buying Ottakar's once before, in 1998, after Borders bought the UK bookseller Books, Etc..



What happened to Novy Ochevidets? . . .


"Moscow's literary community is abuzz with reports that Novy Ochevidets, Russia's answer to The New Yorker, has been shut down after just five months in operation," reports Victor Sonkin in a Moscow Times report. "Sources close to the magazine, including former contributors and media watchers, said that its sudden closure had come as a surprise." Sonkin notes that "The wave of speculation unleashed by news of the magazine's discontinuation . . . echoes the mini–scandal that greeted its launch last August, when its striking visual resemblance to The New Yorker drew international attention." However, Sonkin says New Yorker editor David Remnick "says that it had nothing to do with the magazine's demise."



Art, meet commerce . . .


Some good novelists have new books coming out this spring, including Ian McEwan and Kazuo Ishiguro, and, as Robert Crum observes, "these contemporary maestros will be reviewed and interviewed, profiled and critiqued, up and down, high and low, across a dizzying arcade of contemporary media, from blog to Barnes and Noble." Or, as he restates it in his Observer column, "a McEwan or an Ishiguro will devote almost as many months promoting his latest work as he spent writing it." Says Crum, "This has absolutely nothing to do with good writing and almost certainly inhibits its free, mature expression. Now, more than ever, the book-promotion machine is working against the interests of the writers it has been set up to promote. Now, as never before, the marketplace is devouring the hand, the arm and the head that feed it."





NOTE: Daily newspapers often change URLs when archiving, so some links won't work beyond the day they're first posted.





Wednesday 19 January 2005



Simon says: None of that normal, crappy Indian fiction for us . . .


"In a defining move that's sure to change the rules of publishing here, Random House, one of the world's largest publishing conglomerates, is going to start its India operations soon," comes the report from WebIndia. The Indian branch of the world's largest publisher will be known as Random House India, according to the report. "It will be publishing for India and in India," says the company's international director, Simon Littlewood. He cites as an example, Who moved my Cheese?, which he says "was a smashing bestseller in India." He said he sees the subcontinent as a "burgeoning market in the area of self–help and aspirational books." He added, "We will also love to do fiction by Indian authors, but only when we come along something that is absolutely marvelous."



Lady Chatterly still gets a rise out of some . . .


"A first edition of D.H. Lawrence's sexually explicit 1928 novel, Lady Chatterley's Lover, which could not be sold legally in Britain until after a famous prosecution brought by the Crown for obscenity in 1960 was lost, fetched £3,290 at an auction at Bonhams in Bath" Monday, according to a Telegraph of India report from the paper's London correspondent, Amit Roy. An anonymous buyer phoned in the winning bid from Switzerland, Roy reports. The signed book was one of a first edition printing of only 1,000, and, as the auctioner's books specialist Gill Atkins explained, "The vendor lent this copy of Lady Chatterley to the court during the 1960 trial of Penguin Books for publishing an unexpurgated version of the novel. Unfortunately, no supporting documentation is available as all records of this loan were retained by the court." Says Roy, "Had such documents been available, the sale price might have doubled."



TSOP, part 2 . . .


"There is more excitement about poetry among students, teachers and non-university–affiliated Philadelphians than I've seen in the past two decades," says University of Pennsylvania English professor Al Filreis, the director of Penn's Center for Programs in Contemporary Writing, explaining why he's joined with fellow prof Charles Bernstein to launch PennSound, "an online clearinghouse of recent and rare poetry readings" that offers poetry via MP3 and Real Audio files. As Andrew Parks reports in a Philadelphia City Paper story, it's " the largest collection of poetry downloads on the Internet." Says Parks, "If there's one thing PennSound offers that the written page cannot, it's the performance aspect of poetry: the way authors roll their Rs, pause from time to time, or emphasize specific syllables to added effect. Therein lies the true potential for growing beyond its built–in audience."



Updike conquers youth . . .


During a recent two day residency at the Kingswood–Oxford School in Connecticut, John Updike found himself answering questions from 8th graders. After he read a story about a fifth grader with a crush, one young girl asked him, "Men seem confused about women. Any advice for the guys?" As Carole Goldberg recounts in a Hartford Courant story, Updike replied, "It's a mystery men have to deal with." Updike was taking part in the school's annual Warren Baird English Symposium, which has in the past featured E.L. Doctorow, Edward Albee, Joyce Carol Oates, Gwendolyn Brooks, Arthur Miller, Jane Smiley and Ann Beattie. Goldberg gives a generous sampling of Updike's to the students' questions. For example, asked why he likes to write about sex, he says, "We write about what we care about." On being a writer, he says, "It doesn't get any easier. It was easier when you were new, and writing consecutive sentences at all was exciting . . . More and more, it seems to be between me and the blank page. I'm afraid of the whiteness of the page, its blankness — its Moby-Dickness." Still, he says, "It's a great privilege to extend the delight that any child feels in creating well into adulthood and even into old age. I'm grateful and pleased to have spent a whole life dealing with ink."



On being a public intellectual . . .


On the day Susan Sontag died, the annual convention of the Moodern Languages Association was underway, observes Scott McLemee. "It was pure coincidence, of course. But the timing of Sontag's death seemed to underscore her peculiar role, over the course of four decades, as 'the last intellectual,' to borrow the title of her essay on Walter Benjamin . . . . She had escaped what William James once denounced as 'the Ph.D. octopus' . . . . She was certainly a public figure, and mediagenic to an uncommon degree. Yet Sontag did not especially resemble the current model of the 'public intellectual' (often an academic parachuting into the camera's eye with a prepared statement)." In a heartfelt and iinsightful essay for The American Prospect, McLemee observes that Sontag's was "Not an easy role — least of all in America, least of all now."





NOTE: Daily newspapers often change URLs when archiving, so some links won't work beyond the day they're first posted.





Tuesday 18 January 2005



Another Southern legislator publicly announces he just can't get sex off his mind . . .


Republican legislators in Arkansas "want Arkansas' public school textbooks to define marriage as the union of a man and a woman – just like the recently approved amendment to the state Constitution." According to an Associated Press wire report, state Rep. Roy Ragland has sponosored a bill that says "if a school textbook attempts to define marriage, it must do so the same way the amendment overwhelmingly passed by voters Nov. 2 does." Says Ragland, "With the popularity and the mandate that I felt like the people of the state of Arkansas gave us ... I thought this was the right time to do this."



New children's book prize named for Dr. Seuss . . .


The American Library Association has named its new award for children's books after Dr. Seuss. As an Associated Press wire story reports, "the Theodor Seuss Geisel Award for outstanding children's literature will begin next year." Says Audrey Geisel, the author's widow, "This is such a wonderful tribute to my husband. Librarians are critical to instilling a love of reading in young people, and I'm so pleased the ALA and children's librarians will be selecting the best of the best in Dr. Seuss' name."



Newbery, Caldecott awarded . . .


The ALA also announced the winners of the Caldecott and Newbery medals yesterday. As an A.P. wire story reports, the Caldecott—the prize for illustration—went to Kevin Henkes for Kitten's First Full Moon, "a book for children age 2 to 5 about a kitten who believes the moon is her bowl of milk." The Newbery, meanwhile, went to Cynthia Kadohata for Kira–Kira –, "A book about a Japanese-American girl growing up in the South."



Humiliated spouse of America's Mayor does something more constructive than start a business with Bernard Kerik . . .


She found out she was getting divorced from her husband, then–New York Mayor Rudolph Giuliani, when he announced it in an impromptu press conference and it was broadcast on TV and radio while she was at home in the Gracie Mansion. Donna Hanover was further humiliated when, trying to leave the mansion in tears by a rear entrance, she was caught by reporters who captured her first, devastated reaction live on camera. Now, as an Associated Press wire story reports, Donna Hanover has found love again, and written all about it in a new book, My Boyfriend's Back: True Stories of Rediscovering Love With a Long–Lost Sweetheart. Hanover reconnected with her college boyfriend, Ed Oster, and married him in 2003. "People loved hearing our story," she tells the A.P., and often told their own reunion stories, so she collected them in the book.



Taking credit where credit is due . . .


"One reason why Publishers Weekly and Kirkus cling to their policy of anonymity" in their book reviews, says James Bowman, is that "It suggests a magisterial, objective, authoritative source, unsullied by personal biases." Except when it doesn't: In a Wall Street Journal commentary, Bowman cites a Kirkus review of a book by his colleague George Weigel that refers to Weigel as "a right–wing nut." Thus, says Bowman, the reality of anonymous reviews in the trades: "the opinions actually on offer in these magazines are every bit as quirky, perverse and prone to bias as they are in publications where the writers must take responsibility for what they say. And as the experience of Mr. Weigel and other 'right–wing nuts' reminds us, the magazines' politics tend to be predictably liberal." Bowman also quotes John Gross, who, as editor of the Times Literary Supplement, ended that publication's use of anonymous reviews saying, "There are many occasions on which a reader is entitled to ask on what authority a judgment or opinion is being advanced. There are even occasions when the whole import of a review depends on knowing the identity of the reviewer. Above all, critics should be prepared to be held directly responsible for what they write." Concludes Bowman, PW, Kirkus, and others "should take a leaf out of John Gross's book and put a name next to the opinion."

Repackaging idea: How about calling it How Not to Run a Business? . . .
Thomas J. Neff and James M. Citrin have a new business advice book out called You're In Charge — Now What?, but Gretchen Morgenson says their previous book "is much more entertaining." As she details in a New York Times article, their 1999 book Lessons From The Top: The Search for America's Best Business Leaders was a classic "celebrity–CEO" book where the authors profiled what they considered the 50 best chief executives. Writing that they had employed a "rigorous methodology aimed at identifying the very best business leaders in America," their "best business leaders" included Kenneth L. Lay of Enron, Dennis Kozlowski of Tyco, and Bernard J.Ebbers of WorldCom. In all, "nine of those leaders – almost one in five – have watched their companies become the subject of criminal prosecution, regulatory rebukes, shareholder revolts or all three," observes Morgenson. Thus, she finds the book full of "comic relief." For example, "Mr. Lay, facing criminal prosecution in Enron's failure, has . . . shrugged off responsibility for the debacle by claiming ignorance of the manipulations that brought it down. Yet, six years ago when the sun was shining on the company, Mr. Lay took responsibility for it all." And Kozlowski, "whose trial on charges that he looted the company is set to begin later this month, also takes a star turn in 'Lessons.' Much of the interview centers on the unusually generous reward system he instituted at Tyco. 'There's no upward limit on our incentive programs,' Mr. Kozlowski said."





NOTE: Daily newspapers often change URLs when archiving, so some links won't work beyond the day they're first posted.





Monday 17 January 2005



MobyRests . . .


The MobyLives news digest is observing the holiday for the Rev. Dr. Martin Luther King. It is suggested that you read, instead, from the book A Call to Conscience: The Landmark Speeches of Dr. Martin Luther King, Jr., edited by Clayborne Carson and Kris Shepard.

"Power at its best is love implementing the demands of justice, and justice at its best is love correcting everything which stands against love."








Visit the mothership:

Hear MobyLives' editor Dennis Loy Johnson interviewed by Jeanane Garofalo on Air America Radio's "Majority Report" on Thursday, 20 January at about 8:15 pm ET.

Melville House is hosting a series of "counter–inaugrations" across the country featuring writers from What We Do Now. Come and see Donna Brazile, Greg Palast, Esther Kaplan, Robin Morgan, Danny Schechter, Rick MacArthur, Lewis Lapham, and others, at events in San Francisco, New York, and Washington, DC. Go to the Melville House homepage for More Info.

See it live on C–SPAN: the WHAT WE DO NOW: COUNTER–INAUGURATION in New York City, featuring Greg Palast, Esther Kaplan, Rick MacArthur, and Robin Morgan at The Great Hall of The Cooper Union, Friday, 21 January at 7:00 pm ET.


AVAILABLE NOW!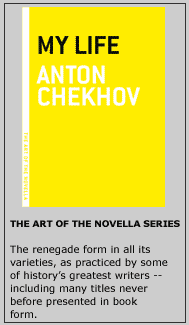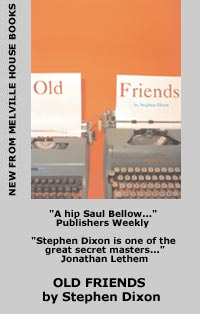 RECENTLY
UNDER–APPRECIATED

From Ig Publishing . . .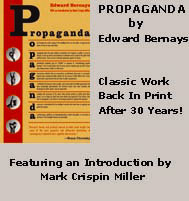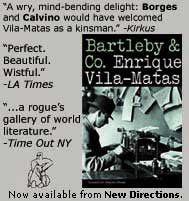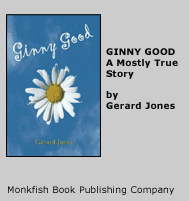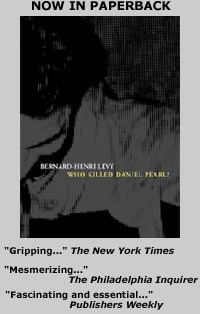 The International Bestseller
WHO KILLED DANIEL PEARL?
by Bernard–Henri Lévy



WHALE SIGHTINGS
This week's fiction:

"Crank Call"
by Thomas J. Hubschman
(from Me Three)

"Brain Spiders"
by MISSY WILKINSON
(from Prose aX)

This week's poetry:

"Not Pee Wee"
by NICK THRAN
(from Grain)

"Airport"
by ELIZABETH VOLPE
(from Briar Cliff Review)

Special edition:

POEMS FOR THE TIME
First posted in October, 2001, Alicia Ostriker's anthology of poetry that she turned to after the 9/11 attacks — including the work of Stephen Dunn, C.P. Cavafy, Marianne Moore, and others — is far and away the most popular link ever posted on MobyLives. Find out why.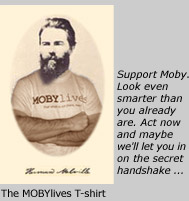 Links
Zembla: The Official Site of the Vladimir Nabokov Society
Everyone Who's Anyone in Adult Trade Publishing
Author interviews at IdentityTheory.com